18.06.2015. -
The situation is very politicized
Moscow has summoned the Belgian ambassador to lodge a protest over the freeze of its state assets. It said that Moscow may consider retaliatory measures against Belgium if the assets are seized, including against Belgium diplomatic property in Russia.
This comes after Belgian bailiffs notified Belgian, Russian and other international companies of the seizure of assets belonging to Russia at the behest of the Isle of Man-based Yukos Universal Limited, a subsidiary of the Russian energy giant, which was dismantled in 2007. They have given the target companies a fortnight to comply.
READ MORE: Russian companies' accounts in VTB French subsidiary frozen - CEO Kostin

Russia will appeal the court's arrest of Russian property, Russian presidential aide Andrey Belousov said. According to the official, "the situation with the arrest of the property is politicized, [and] Moscow hopes to avoid a new escalation in relations."
Russian Foreign Ministry said on Thursday it could consider retaliatory measures against Belgium if the assets are seized.
A letter accompanying the notice, reportedly drafted by the law firm Marc Sacré, Stefan Sacré & Piet De Smet, accused Moscow of a "systematic failure to voluntarily follow"international legal judgments.
The addressees included not just local offices of Russian companies, but international banks, a local branch of the Russian Orthodox Church, and even Eurocontrol, the European air traffic agency headquartered in Brussels. Only diplomatic assets, such as embassies, were exempt.
The situation was not unexpected, and Russia is considering a number of measures to deal with possible asset seizures both in Belgium and in other countries, said Andrey Belousov, an aide to Russian President Vladimir Putin.
"The situation is very politicized," Belousov said. "Let's hope that common sense prevails and we don't sink deep in this story, that there won't be a new round of retaliatory escalation."
Yukos Universal Limited was awarded $1.8 billion in damages by the Permanent Court of Arbitration in The Hague in July 2014, as part of a total settlement for approximately $50 billion, owed to its former shareholders and management. The court concluded that the corporation, once headed by Mikhail Khodorkovsky, who spent more than a decade in prison for embezzlement and tax evasion from 2003 to 2013, "was the object of a series of politically motivated attacks."
READ MORE: Russia finds $21.7bn mistake in Yukos case
Russia has not accepted the ruling, saying it disregards widespread tax fraud committed by Yukos, and constitutes a form of indirect retribution for Russia's standoff with the West over Ukraine. Earlier this month, the Russian ministry of justice said it would take "preventative measures" to avoid property confiscation, and challenge each decision in national courts.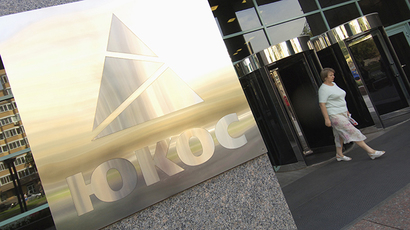 ​Russia appeals $50bn Yukos verdict
A separate ruling by the European Court of Human Rights (ECHR) last summer awarded Yukos shareholders €1.9 billion in compensation. Russia's Dozhd channel quoted ECHR representatives as saying that the reported seizures are not related to its legal decision as several media reports have previously suggested.
Neither Belgium, nor Russia have yet released official statements about potential asset seizures.
Russia spent much of the 1990s embroiled in legal squabbles with several foreign creditors, who attempted to seize its property abroad, but each time the dispute was settled without asset confiscation.
Keywords
:
Russia
,
Belgium
,
Comments
(0)
"Аdd comment
---